The Causes of Fire Damage Odors in Denville Properties
3/22/2023 (Permalink)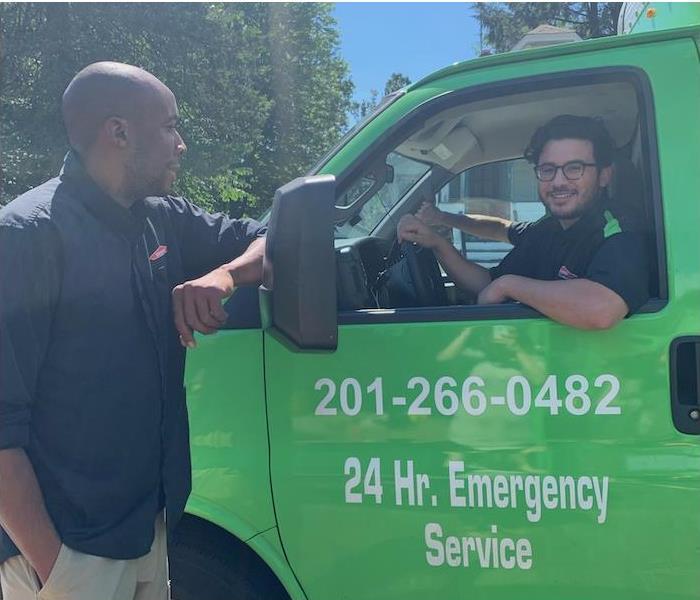 Denville homeowners trust SERVPRO for comprehensive fire and smoke damage cleanup and restoration, "Like it never even happened."
SERVPRO Remediates Denville Homes with 24/7 Fire and Smoke Damage Cleanup
Denville properties can deal with home fire damage at the most inopportune times because, unfortunately, disasters do not occur on a convenient schedule. Even after cleaning up debris and soot, unpleasant odors can be left behind by burnt residues, proteins, and other factors. Fortunately, restoration professionals are available 24 hours a day to address soils and odors.
Denville SERVPRO fire damage remediation specialists typically respond to calls within hours to inspect properties and formulate an actionable and comprehensive restoration plan. This plan includes property inspection and pack-outs if necessary and mitigation, odor control, and rebuilding services following the property owner's insurance coverage.
How Soot and Smoke Cause Fire Damage Odors
Fire damage odors primarily stem from smoke particles, also known as soot, settling on surfaces. These particles come from burnt materials and can spread through the air, not unlike mold or dust. Soot residues can also attract dirt, so SERVPRO technicians always inspect HVAC systems after a fire, even if it does not require servicing.
Smoke particles and fire odors can come from a wide array of sources, such as:
Wood, paper, and similarly dry organic materials often leave dry easy-to-remove soils
Wood finishes, inks, dyes, stains, and adhesives can complicate this when they are burnt
Rubbers, oils, and plastics, including those used in electrical wiring and appliances, can impart an unpleasant odor and greasy soils that smear with traditional cleaning methods
Homeowners should be cautious to avoid areas where fire has made contact with items that operate on alkaline or lithium-ion batteries
Protein residues, which typically come from burnt poultry, red meat, and fish, are especially pungent without specialized cleaners and can easily spread odors via a greasy, nearly-invisible film
When homeowners feel overwhelmed by the prospect of handling these and other fire damage concerns, they can count on SERVPRO techs to remove these on their behalf quickly and thoroughly.
SERVPRO's Fire and Smoke Odor Control and Remediation
SERVPRO restoration strategies easily mitigate smoke damage, soot deposits, and water damage from fire suppression.
If water or fire extinguisher residue is present, technicians typically address this first to prevent microbial growth. Fire soils are easier to remove from dry surfaces than wet ones
Residue cleaning typically proceeds from lightest to heaviest, from the highest point of damage to the lowest. Gentle cleaning with specialized dry cleaning sponges is often sufficient for light, dry soils, which can then be collected with a HEPA-filter vacuum or air scrubber
SERVPRO technicians can achieve widespread odor control with such tools as the thermal or "hot" fogger, which emits a solvent-based smoke that clings to surfaces as smoke particles do
Heavy-duty cleaning options are available to address char, including ultrasonic immersion cleaning for delicate objects, abrasion blasting to address charring, and enzyme digesters that convert filmy protein soils to a water-soluble condition free of odors
SERVPRO rebuilding services, such as installing new drywall and carpet, repainting, and sealing stained wood, can further lessen fire odors in a home until they are nonexistent and the property is comfortable and clean. Our team coordinates with property owners and insurance adjusters throughout the restoration process to keep the claims filing process smooth and expedient.
Homeowners can call (973) 983-5657 to receive assistance from SERVPRO of North Morris County, which leaves properties looking and feeling "Like it never even happened."