When Your Denville Home has Leaks, Call for Water Damage Repair
12/25/2022 (Permalink)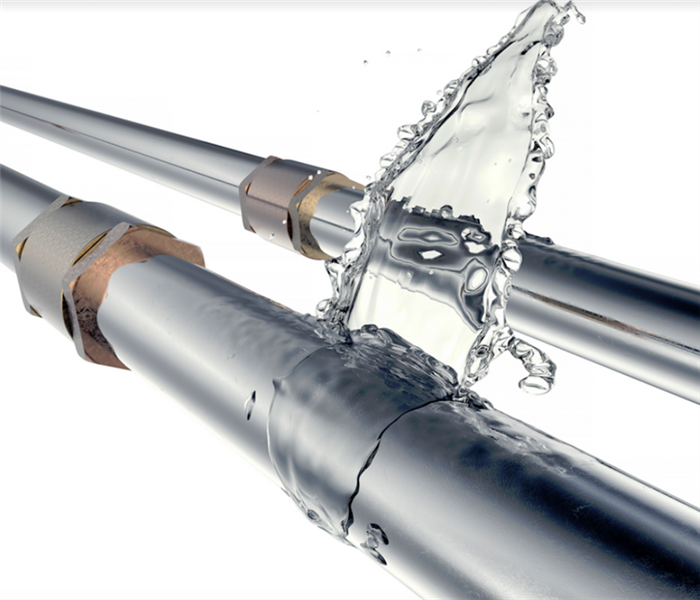 When a water pipe break or other issue causes a water damage situation in your home, it's time to bring in the professionals. We are standing by 24/7.
Scalable & Efficient Water Damage Repair Services
SERVPRO's crews have extensive experience in water damage repair and can restore your home quickly. Your Denville residence contains many different water lines. While these all are under the same pressure, larger pipes can release significantly more if a break ever happens.

Other water sources run through your home's kitchen and bathroom walls in Denville, and water damage repair can always fix any problems caused by leaks. Smaller water lines can still release much-unwanted water into your living space. You might find these supplying water to your fridge's ice maker. A loose connection between a feed line and your washing machine can also release more water than you might realize.

Any amount of water can cause materials within your home to deteriorate. Some residential components that can sustain water damage are:
Flooring materials,
Baseboards and moldings, and
Electrical systems.
Your home's floors are often the place most affected by excess moisture. Because water conforms to everything, it can travel several yards away from the origination point. We use moisture detection devices to learn precisely where to direct our attention. With water leaks, we can clean and dry carpeting and treat padding, so replacing these investments becomes unnecessary. Wood flooring requires strict drying protocols, so over-drying never occurs.

Corners often have baseboards or other moldings where the floors meet the wall. These can swell and curve when exposed to moisture. Paint can also peel and flake. Getting these dried out slowly protects them from splitting. We can repaint, if needed, to preserve their look and reinstall them once they are completely dry and free of moisture.
The metals inherent in any electrical system can develop deposits from minerals in the water and regular corrosion and rust. Water can also conduct electricity, making the risk of getting shocked or a fire breaking out much greater than normal.
SERVPRO of North Morris County understands these and other issues. Call us at (973) 983-5657 for water damage repair needs. We'll make it all "Like it never even happened."