Planning a Mold Remediation Project in Denville
8/13/2022 (Permalink)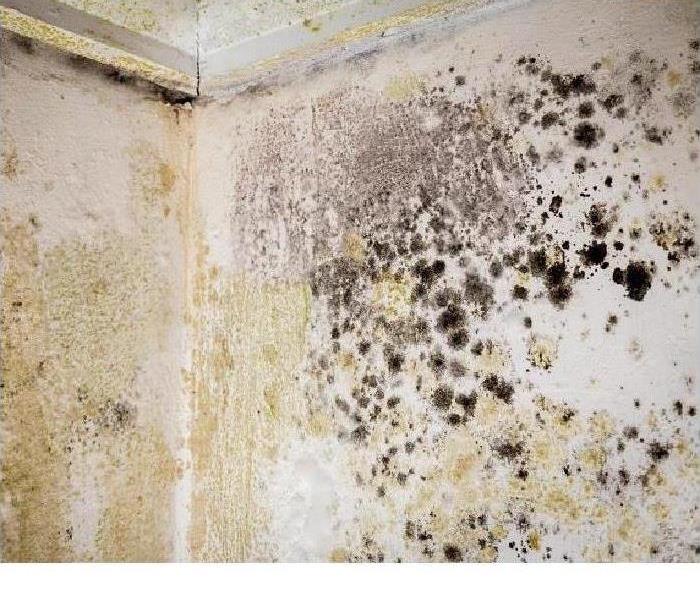 Call your local professionals at SERVPRO of North Morris County to ensure your home is dry and sanitary.
SERVPRO Conducts Mold Restorations in Denville
Anyone who has seen black mold knows that it can start as just a small discoloration of one of your building materials or contents and then quickly turn into a significant issue. A fungus needs moisture, an organic food source (like water or paper), and about 48 hours to start to grow. Once fungi develop, they form structures called hyphae that grow three-dimensionally. Then, the contamination can release seed-like spores that can travel through the air until they find another area to contaminate.
When our SERVPRO team conducts mold remediation in Denville, we focus on removing the contamination and preventing it from spreading to previously unaffected sections of your home. First, we find out where the moisture is coming from that caused the fungi to develop in the first place. Once we ensure no more water leaks in the affected area, we can begin our restoration procedures.
Before we conduct any work, our highly trained team can seal off the area with plastic by building a containment chamber. We can then connect an air scrubber to the contained area to create negative air pressure inside it to remove spores and other contaminants from the air. Once the affected region is sealed, we can then take steps to remove your affected building materials or contents if we determine they cannot be saved by sanding or sandblasting the contamination from the surface. We can then dry out and seal the affected structural components like your wall studs or roof trusses with a specialized sealant paint such as Kilz.
Ways we can help you when you find mold in your house:
Water Extraction Services
Applied Structural Drying (ASD)
Attic Mold Restorations
Bathroom Mold Remediation
Black Mold Inspections
If you ever notice even a small section of your home contains black mold, call SERVPRO of North Morris County at (973) 983-5657.