What Types of Water Damage Can Occur in Denville in the Winter Time?
12/31/2021 (Permalink)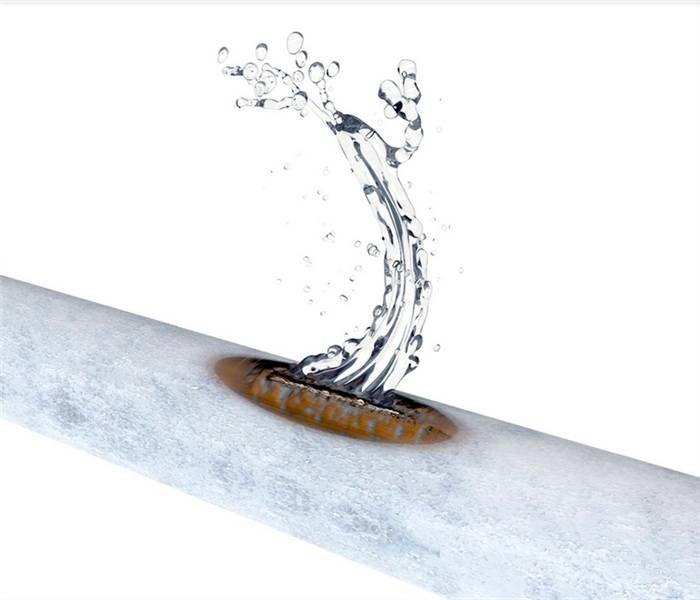 When frozen pipes bring excess water into your home, team SERVPRO can help. Contact our certified technicians right away for remediation services.
SERVPRO Can Provide Emergency Services for Water Damages in Denville
When most people think of property damage caused by storms, they think of thunderstorms and flooding conditions that mainly occur during the warmer months in the summer and spring. However, when the weather gets colder in the fall and winter, there are different issues that Mother Nature can create. Any time the temperature drops below freezing, the cold temperatures and snowstorms can become the culprits of property damage.
Frozen pipes and ice damming in Denville are the two most common types of disasters in the fall and winter. Both of these occurrences can cause excessive damage to your building materials and contents. Any time moisture gets into your dwelling, issues can arise. Luckily, our highly trained SERVPRO technicians can provide the following services to assist you:
Flood Damage Remediation
Clean Up After a Sewer Backup
Repair Damage Caused by Burst Pipes
Mitigate Issues Caused by Ice Dams
Water Extraction Services
Ceiling Repairs from Water Damages
Most people know the importance of keeping the heater on during the winter when out of town. When the temperature drops below freezing outside, it is possible that certain sections of your pipes can freeze. Once water freezes, it can expand and cause your pipes to burst and leak. When this occurs, hundreds of gallons of water could have leaked into your home while you are out of town. The longer your contents and building materials stay wet, the worst the damage can become.
Ice dams are also another occurrence that can cause water damage to your house. Ice dams typically occur after a snowstorm once the snow starts melting. If your roof is warmer in some sections than others, a block of ice can form on your gutters and prevent water from draining.
If you ever notice water leaking into your home due to frozen pipes or an ice dam, call SERVPRO of North Morris County at (973) 983-5657.