Can SERVPRO Assist Rockway Homeowners with Water Extraction from their Properties?
1/7/2022 (Permalink)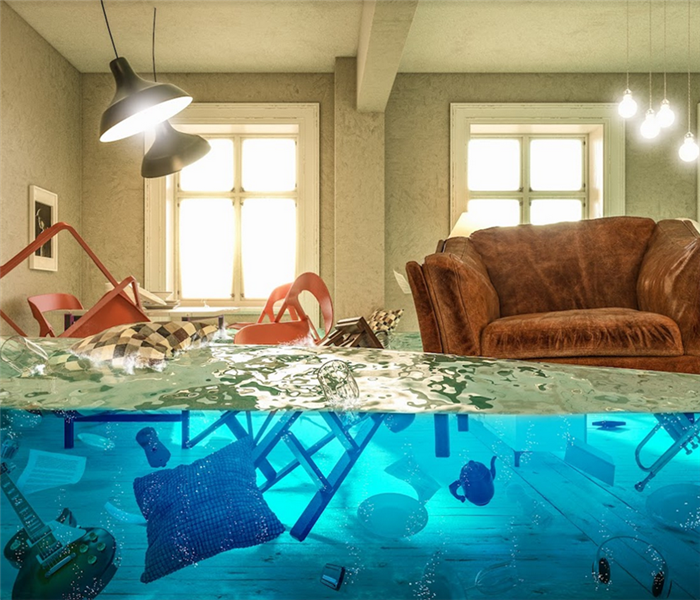 Excess water in your home can quickly cause damage to your property. Contact SERVPRO 24/7 for effective water removal and remediation services.
SERVPRO techs use industry-leading technology for water extraction from Rockaway homes
Water accumulated on your property can compromise the integrity of various structural materials, including wood, metal, and concrete. It is crucial to get professionals like SERVPRO involved right away for water extraction from your Rockaway property before the matter gets out of hand.
SERVPRO techs use several pieces of equipment during water extraction from your Rockaway property, depending on the amount and condition of water to be removed. Small portable extractors can handle relatively small amounts of water resulting from burst pipes or ceiling leaks. To remove large quantities of water, for instance, after flooding or sewage cleanup, SERVPRO techs use large, truck-mounted units.
What are self-priming trash pumps used during SERVPRO's water removal service in Rockaway?
Self-priming trash pumps are high-power pumps that can remove solids and other debris along with water from your Rockaway property. The trash pumps are classified into the following types depending on the size of solids they can handle:
Semi-trash
Trash
Full trash
Slurry
The semi-trash, trash, and full trash pumps can pass progressively larger solids, while the slurry pumps are specifically designed to carry fluid laden with sand or mud.
Why do SERVPRO techs don't use trash pumps in flooded basements?
Trash pumps are most applicable when the water needs to be transported horizontally, and only a little lift is required. Hence, these pumps are ideal for removing water from single-story structures.

Techs use high-pressure pumps that offer a high lift to remove water from basements and other underground structures.
If you need assistance with water restoration in your home, call SERVPRO of North Morris County at (973) 983-5657.