Does SERVPRO Provide Water Damage Restoration in Denville?
5/6/2021 (Permalink)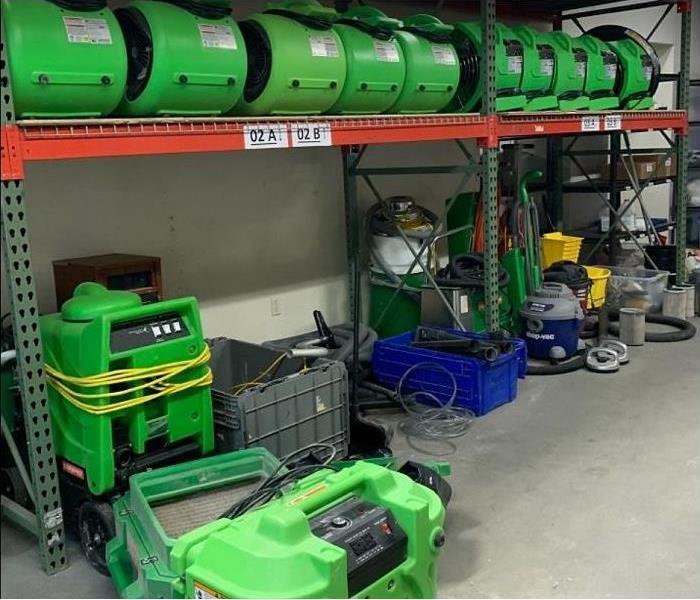 Take a peek inside our warehouse. This is just some of the equipment available to restore your water damaged home!
Can SERVPRO Help with Water Damage from a Leaking Pipe Inside a Wall in a Denville Home?
Leaky pipes can cause a tremendous amount of damage inside a wall, especially if the leak dribbles for an extended period and goes unnoticed. Eventually, water and moisture cause the drywall to become soft and crumble. Mold may develop on the drywall's interior and the structure leading to a strong, musty odor. The flooring material may also be wet if it is carpet flooring, and wood floors may begin to swell and buckle.
SERVPRO technicians can help locate the water source in your Denville home and with water damage restoration. If there is mold and if the floors have been damaged, the total amount of damage present will determine the scope of the restoration process required. We assess all of these issues. We show our clients what is needed and provide recommendations on how to proceed.
We may need to:
Remove damaged structure, e.g., drywall materials.
Make repairs to supporting studs.
Once everything is dry, SERVPRO can complete minor repairs such as drywall installation, flooring repair, and painting. SERVPRO aims to return your home to pre-water damage condition!
Call SERVPRO of North Morris County for Water damage services in Denville and surrounding areas. We can help 24/7. Call (973) 983-5657.