Avoiding Frozen Pipes
1/28/2021 (Permalink)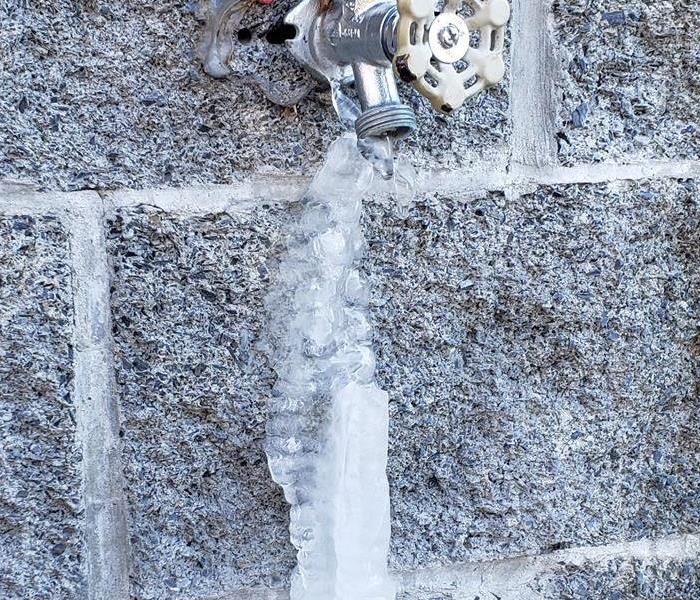 Some may find this a pretty sight: icicles forming in the cold weather. Icicles forming on outdoor faucets can cause costly damage inside your home.
Avoiding Frozen Pipes
The next week or so in North Morris County look to be the coldest of the winter season. The temperatures are expected to bottom out in the single digits. When we start to see these sub-freezing temperatures, we need to take action. If the water dripping from your roof becomes an icicle, what do you think the water in your exposed pipes is doing?
A few thoughts which could save homeowners a lot of money this winter:
WRAP THOSE PIPES - If you have exposed pipes, perhaps running through your garage or crawl space and you have not already done so, wrap them now with insulation to keep them as warm as possible. This may prevent frozen pipes as the temperature drops.
DRIP THE FAUCET – Do you have pipes adjacent to an outside wall? They may freeze leaving you with nothing coming out of the faucet. When you know it's going to be a sub-freezing night, open the faucet just enough to let the water drip. As long as the water is moving, your pipes should not freeze.
EMPTY THE PIPELINE - The closer the pipe to an outside faucet, the more likely it will freeze. Turn the water off leading to those outside faucets then open the faucet and let the water drain out.
Doing these few things may save you a lot of aggravation and expense down the line. If you should experience frozen or burst pipes, turn the water off at the source and call SERVPRO® of North Morris County. We have the experience and the certified team to handle water or any type of disaster.