10 Things You Should Know About MOLD - Part 1 of 2
3/5/2016 (Permalink)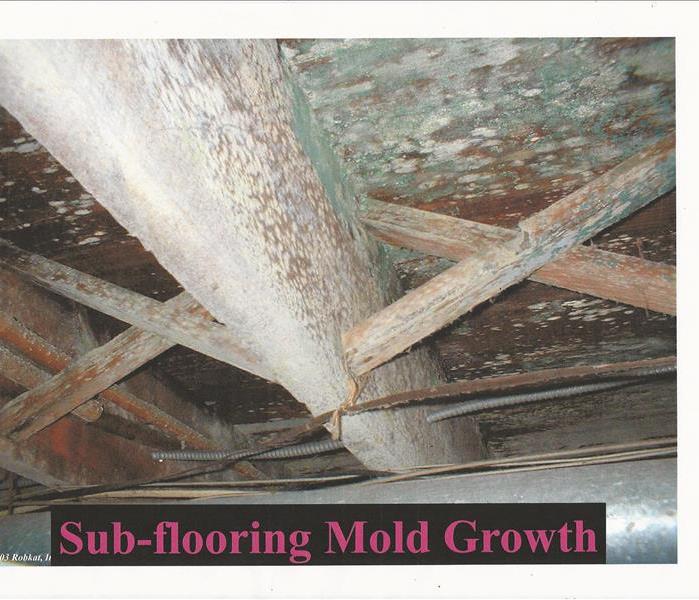 Mold is a very hot topic these days, especially in the real estate community. If you are buying or selling a house, or even if you are not moving, the last thing you want to hear is the word MOLD. However, when is it a concern? Yes, there are times when it's serious, but some companies will lead you to believe it's the end of the world.
Understand that mold IS everywhere. As a matter of fact, if you have ever taken penicillin or eaten bleu cheese dressing on your salad, you have consumed a form of mold. The point is, there are many different types of mold. There are harmless, allergens and toxic.
Today, we will look at the first five things you should know about mold.
1. Potential Health Effects - People who have respiratory issues such as asthma, or young children or the elderly, these are people who may suffer health effects from mold.
2. You Cannot Eliminate Mold – There are acceptable levels of mold. Unless you are living in a "clean room" at some laboratory, you are living with mold every day. Whether it's your living room, kitchen or bedroom, there is a certain level of mold in those rooms. The amount, however, is typically so small that you are have no ill affects. The recipe for mold is moisture + food source (wood, Insulation paper, drywall, etc) + a lack of ventilation. If you eliminate any one of these, you cannot grow mold. This is why it is so important to quickly address a water intrusion.
3. When Is Mold A Problem? – If you don't clean your shower stall often enough, you may end up with some surface mold. This is relatively minor and you can clean it with an over-the-counter product. However, say you go on vacation and a pipe bursts and your finished basement is flooded. Due to our recipe (moisture+food source+lack of ventilation) you have significant mold growth, this is a major issue and you need to bring in a professional to address it.
4. Prevention Is The Best Medicine – As stated before, anytime you can eliminate any of the three parts to the mold recipe, you can prevent mold. Some additional thoughts:
A. Leave your HVAC running when you leave on extended trips.
B. Check for roof leaks
C. Check for leaks around doors & windows
D. Check for proper gutter drainage
E. Check vacant buildings regularly
F. Inspect hot water heaters, air conditioners, water softeners, etc
G. Investigate moldy odors
5. Control Humidity – Mold can actually grow just from elevated relative humidity, An RH of 60% or higher for an extended period of time can start old growth on structural surfaces. Make sure any moisture generating appliances (bathroom exhaust fans, dryers) should be vented to the outside.
NEXT TIME – The Ten Things You Should Know About MOLD – parts 6-10